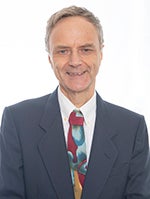 Dr. Herbert Schwarz
Associate Professor
Department of Physiology, Yong Loo Lin School of Medicine
Tel: +65-6516-7773
Email: phssh@nus.edu.sg
What are your present research interests?
Our lab focuses on the modulation of immune responses, with the aim of understanding the underlying pathogenesis mechanisms of cancer, autoimmune disease and infections.
Do you have a distinctive viewpoint to your research?
I believe that the fine-tuning of immune responses by stimulating or inhibiting co-stimulatory molecules, such as CD137 or CD137 ligand, will open up novel therapeutic approaches that can alleviate immune-mediated diseases and that will permit the induction of immune mechanisms, leading to the elimination of cancers.
What do you see as your future research directions?
Our aim is not only to publish novel findings but also to develop new treatments and therapeutic approaches for patients. The main activity of our group will remain tumor immunology and cancer immunotherapy. However, we also target autoimmune diseases such as Multiple Sclerosis and Lupus.
Does your laboratory have a particularly strong research expertise?
We know the CD137 receptor / ligand system intimately and have plenty of experience and reagents that are not readily available. This enables us to work at the forefront of CD137/CD137 ligand research.
Recent Publications
1. Mak A, Dharmadhikari B, Kow NY, Thamboo TP, Tang Q, Wong LW, Sajikumar S, Wong HY, Schwarz H (In press) Deletion of CD137 ligand exacerbates renal and cutaneous but alleviates cerebral manifestations in lupus. Frontiers in Immunology
2. Wu M, Wong AHY, Lin JL, Ibanez Moliner A, Schwarz H (2019) Induction of CD137 expression by viral genes reduces T cell costimulation. Journal of Cellular Physiology.
3. Aravinth SP, Rajendran S, Li Y, Wu M, Wong AHY, Schwarz H (2019) Epstein – Barr virus encoded LMP1 induces ectopic CD137 expression on Hodgkin and Reed-Sternberg cells via the PI3K-Akt-mTOR pathway. Leukemia and Lymphoma 6:1-8.
4. Zeng Q, Mallilankaraman K, Schwarz H (2019) Increased Akt-driven glycolysis is the basis for the higher potency of CD137L-DCs. Frontiers in Immunology. 10:868.
5. Dharmadhikari B, Nickles EP, Harfuddin Z, Ishak D, Zeng Q, Bertoletti A, Schwarz H (2018) CD137L-dendritic cells induce potent responses against cancer-associated viruses and polarise human CD8+ T cells to a Tc1 phenotype. Cancer Immunology, Immunotherapy 67(6):893-905.